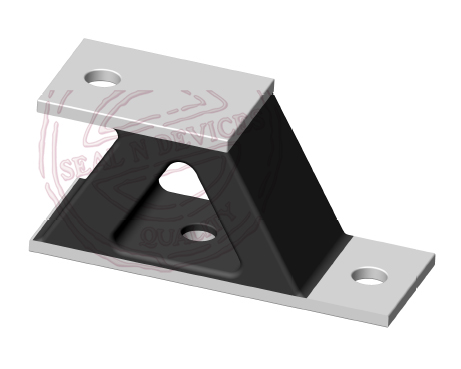 Type V and W Rubber Mountings
Type V and W Mounts were originally designed as isolators for sensitive instrumentation and equipment which requires protection against shock.
They are available in 2 sizes only, both with different rubber hardnesses, for vertical load capacities from 100 kg up to maximum 600 kg each. Recommended for load in compression and in shear.
Provides effective vibration isolation of equipment and is easy to install.
TYPE "V" AND "W" RUBBER MOUNTINGS
MOUNTINGS ARE AVAILABLE IN 3 DIFFERENT RUBBER HARDNESSES 1.E. 40-60 & 70 SHORE
PART / CODE NUMBER
COMPRESSION
SHEAR
Style
Hardness
MAX LOAD (kg)
MAX DEFLECTION(mm)
MAX LOAD (kg)
MAX DEFLECTION (mm)
VM001
V
40°
100
3,5
30
5
VM002
V
60°
200
3,5
75
5
VM003
V
70°
300
3,5
115
5
WM001
W
40°
200
3,5
75
4,5
WM002
W
60°
390
3,5
160
4,5
WM003
W
70°
600
3,5
230
4,5