Anti-Vibration Pads 
Anti-Vibration Pads are a simple yet effective solution to absorb vibration, impact and reduce noise from various types of machinery. Using an Anti-Vibration Pad correctly can often be the most cost effective way to address a high frequency vibration.
Natural Rubber pads and Neoprene pads are our most common due to their efficient damping properties.
We mould a large array of Anti Vibration Mats, Pads for all your vibration damping and isolation needs.
– SW Pads 
Anti Vibration Pads that are the perfect solution to reduce noise, high frequency vibration and impact from various types of machinery. High deflection with high vibration dampening/ absorbing.
Each pad consists of 81 modules which are easy to cut due to the webbing between them. These modules allow you to cut off exactly what is needed for your specific load rating and keep the off cuts for re-use.
Vibrasorb SW Vibration Pads are moulded in the following materials (not limited to):
Natural Rubber Pads – Maximum resilience and vibration absorbing.
Neoprene Pads – Longer life span with excellent oil and UV resistance while maintaining high vibration dampening properties.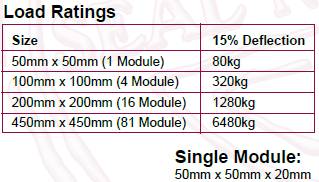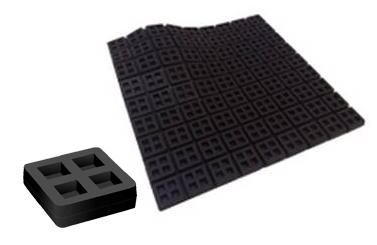 – W Pads
Anti-Vibration Mats with a higher load carrying capacity for basic vibration reduction or dampening.
Pockets allow more deflection and better grip. The W Pad Anti Vibration Mats are manufactured in sheets of 450mm x 300mm that can easily be cut into smaller sections to according to the load rate required.
W Pads are available in 12mm Double (pockets both sides) or 6mm Flat Back (pockets only on one side). These anti vibration mats are made from natural rubber unless otherwise specified.
Load ratings are as follows: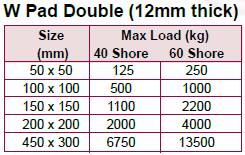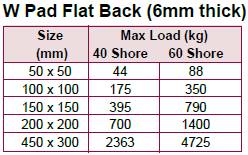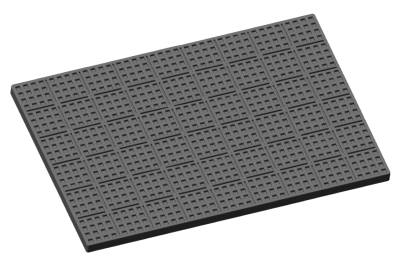 – WS Pads (Rubber/Steel/Rubber) 
Vibration isolation pads made by bonding W Pads to a center steel plate. These Anti-vibration pads have a thickness of 25mm and are available in multiples of 50mm. 100mm x 100mm generally being the most common. These allow higher vibration isolation than the W Anti-vibration Mats while keeping the high load capability.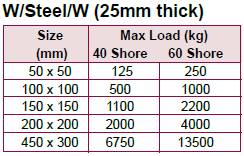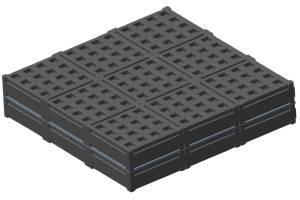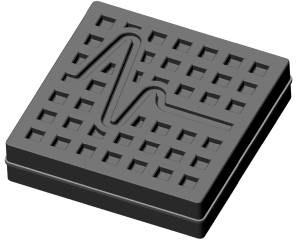 – 100×100 Rubber Pad
Our simplest anti vibration pad. A very cost effective Vibration isolation pad that can be used in a variety of anti-vibration applications.