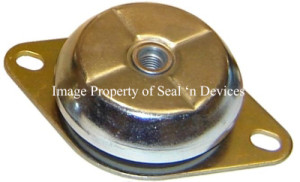 Description
Our Failsafe Series is a direct replacement for the Novibra® type RA and Metalastik® range , the Elastometall® Machine Mount range and the Megi® Machine Mount range.
The Failsafe series are anti-vibration mountings which are designed for multidirectional direction vibration control. The design allows for the mount to work in both shear and compression obtaining an excellent ratio of stiffness and horizontal stability.
These mounts are a must where the degree in isolation is a priority
Technical characteristics
Load ratings from 70 – 2900kg.
Designed to work in both shear and compression.
Fail-safe protection by interlocking metal components. preventing the cap and base from coming apart.
The mount is flexible vertically and stable horizontally.
Compact design, easy to install.
Dome shaped cover protects the rubber from Oil, Diesel,Ozone and UV rays.
Metals treated to help protect against corrosion.
| | 40 Shore | 50 Shore* | 60 Shore | 70 Shore* |
| --- | --- | --- | --- | --- |
| FS   60 | 70 | 130 | 170 | 245 |
| FS  100 | 110 | 160 | 230 | 300 |
| FS  200 | 180 | 230 | 270 | 330 |
| FS  350 | 250 | 350 | 450 | 550 |
| FS  500 | 450 | 550 | 690 | 850 |
| FS  800 | 750 | 1000 | 1300 | 1600 |
| FS 1800 | 1300 | 1600 | 2100 | 2900 |